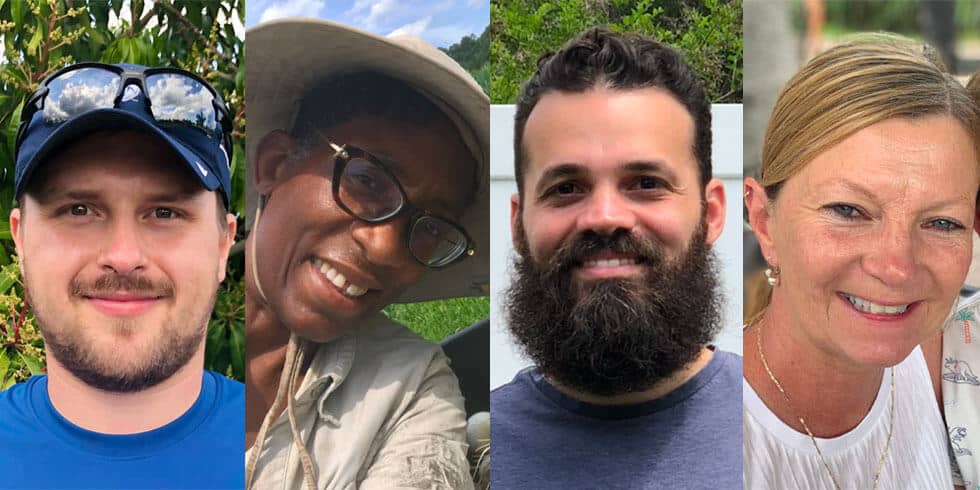 June 28th, 2022
Arden Welcomes New Team to Manage Residential Agrihood's Five-Acre Farm
Arden, South Florida's first master-planned residential agrihood, has recently welcomed a team of organic farming experts who will manage the community's five-acre working farm. Arden's new Farm Director Cristian DeRusha is joined by two new farmers Charmaine Peters and Nick Nieves.
DeRusha, Peters, and Nieves will oversee Arden's farm share program and continue developing the community's second farm. The new team will take farm management over from former Farm Directors, Tripp and Carmen Eldridge, who are moving to Gainesville, FL to spend more time with their family.
"We're incredibly honored to have served as Arden's first Farm Directors and established a solid foundation for the farm's operation that's scalable and productive. We've been able to work alongside the best team and have really gotten to know so many amazing residents," said Carmen Eldridge. "It's been an absolute pleasure to serve this community, and we are excited about Arden and its farm's future under the management of Cristian and his team."
DeRusha added: "I am thrilled to be joining the Arden farm and having the opportunity to grow the farm-to-table lifestyle here in the agrihood. I am honored to continue the incredible work that Tripp and Carmen have done over the last four and a half years. The agrihood experience is so unique, and we are excited to make access to fresh, locally grown produce a reality for Arden residents.
Cristian DeRusha is a Colombian American who grew up in the suburbs of Indianapolis, where he started his career in farm management and urban ecology while studying at Butler University. He joined the farm team in March 2022 as a farm manager and will now take over as Farm Director. With eight years of experience in production of organic fruits, vegetables, culinary mushrooms, and animal husbandry, DeRusha brings a global perspective to Arden's farm team.
In 2006, Charmaine Peters joined the Licking Creek Bend Farm in Pennsylvania, where she apprenticed on a 60-acre farm, managing a 100-person Community Supported Agriculture (CSA) program and educating and training multiple worker-run teams of young farmers. Over the course of 15 years, she became a passionate advocate for health, nutrition, and supporting local communities with organic food, making her the perfect addition to the agrihood.
Nick Nieves' love for farming started 13 years ago. From growing food in his own backyard to working on production farms, Nick has gained extensive experience agriculture, and is excited to put it into practice at Arden.
Also joining the farm team is Ruby Pyle. A retired nurse who loves outdoor gardening, Pyle will be managing the Arden General Store located in the Events Barn.
Developed to promote healthy living, community engagement, and keep residents connected with nature, Arden is home to a vibrant neighborhood surrounded by green space, world-class amenities, and 20 miles of running and biking trails. At the center of the Arden community is a five-acre farm that provides fresh produce to hundreds of residents from November to May. The farm serves as a unique amenity for Arden's residents, allowing them to volunteer to work with the farm team as they plant and tend to the crops, and share in the harvest of farm-fresh vegetables, herbs, and flowers.
Read the full press release here: Arden Welcomes New Team to Manage Residential Agrihood's Five-Acre Farm (prweb.com)
Follow the Arden farm team on Instagram @ardenfarmfl