April 21st, 2022
The Arden Farm Is More Than You Think
Most Arden residents and visitors know about our community's five-acre farm that grows more than 30 varieties of organic fruits and vegetables for our residents to enjoy during the harvest seasons. But the Arden farm is much more than just a farm. In fact, you may be surprised how much fun and how many different activities and special events can fit in five acres. Run by our two incredible farm directors, Tripp and Carmen Eldridge, the farm is a uniquely distinguishing feature that sets Arden apart from any other residential communities in South Florida.
Here are just a few of the many ways Arden residents can take advantage of the community farm (make sure to read to the end for a sneak peek of the incredible amenities that are coming soon):
Five Acres of Production
The Arden community surrounds a central five-acre farm where farm directors Tripp and Carmen grow and harvest fruits and vegetables for the entire community. From November to May, residents get to enjoy more than 30 varieties of fruits and vegetables grown at the farm. Whether it's traditional vegetables like tomatoes or cucumbers, unique produce like Japanese salad turnips, or tropical fruits like mangoes, our residents experience new, healthy foods year-round.
 Farm Share
As an Arden resident, you have the option to receive your very own basket of fresh fruits and vegetables in your monthly farm share! Using Harvie, Arden residents can customize their farm share, get notifications when they can swing by the farm to pick up their basket and share helpful recipes and food storage techniques. This is an easy way to start living farm-to-table, explore different produce, and experiment with new dishes in your own kitchen.
General Store
Located in the Event Barn, the Arden General Store is the perfect place to buy locally sourced goods from right here in South Florida. Whether it's jars of pickles, fresh jellies, jams, or a sweet treat, you'll find what you need here. Here are the General Store hours: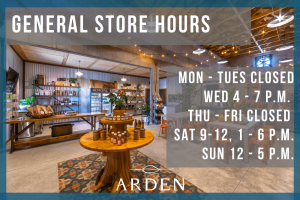 Gardening Workshops
 Tripp and Carmen offer a series of farming and gardening workshops for all ages. From Intro to Organic Gardening to How to Compost at Home, these classes are the perfect way to start learning about living greener and making your home eco-friendlier.
 Farm Tours
Interested in learning how you can start living farm-to-table? On the second Saturday of each month from 1-3pm, join Tripp and Carmen for a tour of the Arden farm and learn about small-scale farming. Follow @ardennaturally on social media for updates on upcoming tours!
Volunteer Days
Tripp and Carmen invite Arden residents to get their hands dirty and volunteer at the farm! If you're in need of community service hours for school, or just want to learn how to plant and harvest fresh produce, you'll love working as a team, getting outdoors, and getting a hand in producing what goes into the resident farm share.
Special Events
The Arden Event Barn is not just home to our General Store, but to some great community events as well. Planned by our full-time Lifestyle Director, residents are invited to workshops, classes, and special events to meet neighbors and connect as a community. Whether it's seasonal pumpkin carving in the Fall or flower arranging in the Spring, there are always lots of activities taking place at Arden's Event Barn.
Two U-Pick Gardens
Find yourself in need of fresh herbs to finish dinner? Residents can make their way down to the U-Pick Garden right outside of the farm to grab culinary gardens when they need it most. Kids can also enjoy time at the Children's Learning Garden.
Butterfly Garden
Among Arden's many wide-open green spaces and playfields sits the Butterfly Garden. Residents can enjoy an intimate lakeside view and watch for these beautiful, winged creatures. Visiting the Butterfly Garden with your kids is also a great way to educate them about the important role pollinators play in our ecosystem.
 COMING SOON!
 As the Arden community continues to grow, residents can expect to see brand new additions to the farm. Residents will get to experience a brand-new U-Pick Orchard to pick their own fruits like apples and much more. There will also be an opportunity to grow your own fruits and vegetables at Arden's new Adopt-A-Bed Community Garden. A great activity for individuals and families alike, this new community feature will give residents the ability to plot, plant, and harvest produce of their choosing. And finally, a new Meditation Garden will add another beautiful and relaxing space for anyone looking for a place to unwind.
Interested in learning more about the Arden farm? Explore our website and follow Arden on Facebook, Twitter, and Instagram!