February 13th, 2023
Spice Up Your Valentine's Day With Farm-To-Table Recipes
It's the season of love and this year, adding some spice to your Valentine's Day plans is easier than ever! With farm-fresh produce and locally sourced herbs and spices from Arden's five-acre community farm, you can cook a candlelight dinner for you and your valentine that feels healthy and tastes great!
Here are some of our favorite Valentine's Day recipes you can recreate in your own kitchen for the one you love.
Farm-Fresh Herb Pesto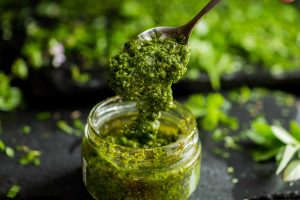 Pesto is an incredibly versatile way to use fresh herbs in any recipe. Whether you enjoy it on pasta or proteins, like chicken, or even stuffed in portobello mushrooms, this recipe will be the perfect addition to your Valentine's Day meal.
Ingredients
¼ cup Basil
1 cup Spinach, fresh
½ cup Cilantro
1/8 cup Mint
¼ cup Tarragon
¼ cup Dill
½ cup Pine Nuts, toasted
2 cloves Garlic
1 Lemon, juice and zest
1 cup Extra-Virgin Olive Oil
½ cup Parmesan Cheese, grated
Kosher salt and freshly cracked black pepper
Instructions
In a skillet, toast ½ cup of pine nuts on medium heat until golden. Keep the pan moving to avoid burning.
In a blender or food processor, add toasted pine nuts and garlic and blend until smooth.
Add the spinach, cheese, herbs, and lemon zest, and juice to your mix and blend until just combined.
Keeping the blender on low, add the olive oil until you have your desired consistency.
Season with salt and pepper to taste
Enjoy your fresh pesto on proteins, vegetables, pasta, or crostini for a refreshing twist on date night!
Roasted Spiced Carrots With Yogurt Sauce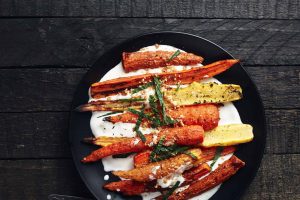 These roasted carrots are the perfect side dish for your Valentine's Day dinner. With spicy carrots and an herby yogurt sauce, you'll definitely enjoy this mix of heat and cooling flavors with your sweetheart.
Ingredients
Carrots
1/2 lb. medium Carrots, peeled
2 tbsp. Extra-Virgin Olive Oil
½ tsp. Salt
½ tsp. Coriander
½ tsp. Cumin
½ tsp. Black Pepper, ground
½ tsp. Chili Powder
½ tsp. Paprika
½ tsp. Cayenne Pepper
1/8 tsp. Ginger, fresh ground
1/8 tsp. Cinnamon
1/8 tsp. Cloves, ground
Yogurt Sauce
1 cup Greek Yogurt
½ cup Dill, fresh and chopped
1 Lemon, juice
2 tbsp. Extra Virgin Olive Oil
Kosher salt and freshly ground Black Pepper
Instructions
Preheat your oven to 400°F and prepare a baking sheet with cooking spray.
In a large bowl, toss carrots with oil and spices.
Arrange the carrots in a single layer on the baking sheet and roast for 25-30 minutes, or until lightly browned. Stir halfway through.
Prepare the yogurt sauce. Chop fresh dill and juice 1 lemon. Add both to the Greek yogurt with the olive oil and mix until combined. Add salt and pepper to taste.
Valentine's Day Flourless Spiced Brownies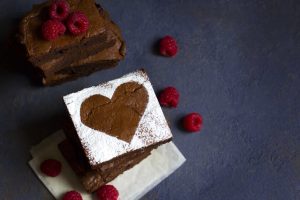 Chocolate is a huge part of Valentine's Day traditions and luckily, spice and chocolate pair really well. Add a little heat to this healthy dessert with cayenne or other hot peppers and enjoy a rich taste you can feel good about.
Ingredients:
2 eggs
½ cup coconut sugar
¼ cup maple syrup
½ cup coconut oil, melted
1 tsp vanilla extract
¾ cup almond flour
2/3 cup cocoa powder
¼ tsp baking soda
½ tsp cayenne pepper, ground
¼ cup chocolate chips (optional)
¼ cup walnuts (optional)
¼ tsp sea salt
Instructions:
Preheat your oven to 125 and line a baking dish with parchment paper.
For your fresh cayenne pepper powder, take some fresh peppers from your garden. Remove the stems and slice them open. Place them on a lined baking sheet and dry in the oven for several hours. Once dried, take out the seeds (if you want), and use your blender, food processor, or spice grinder to grind the peppers into a powder.
Turn up your preheated oven to 350
Start with your "wet ingredients." In a large bowl, combine eggs, coconut sugar, syrup, coconut oil and vanilla extract and mix until just combined.
Then, move to your "dry" ingredients. In another bowl, mix almond flour, cocoa powder, baking soda, ground cayenne pepper, and salt.
Slowly fold your dry ingredients into the wet. You can take this one or two cups at a time. Fold until completely combined and you can't see any dry ingredients.
If you want, you can now fold in your chocolate chips and/or walnuts for another layer of flavor.
Pour the batter into the pan and bake for 15-18 minutes.
Let the brownies cool and enjoy them with your partner!
We hope you enjoy these recipes with farm-fresh ingredients. We hope you and yours have a happy Valentine's Day!