April 17th, 2023
Arden Resident Spotlight: Jake and Emily Shapiro
Since its founding, Arden, South Florida's award-winning agrihood, has welcomed hundreds of families connected by a love of nature into its tight-knit community. We sat down with Arden newcomers Jake and Emily Shapiro to learn why they chose Arden as the place to raise a family.
Q: Tell me about your family.
Jake: We are a small family of 3. We have a 19-month-old daughter named Shoshie and two dogs, Lilo and Tova. Emily and I have been married for almost eight years.
Q: Why did you move to Arden?
Emily: We moved to Arden last June. We were living in Miami in a four-bedroom townhouse. When we started growing our family, we needed more space, so we started looking for a new home. We really wanted a nice, quiet, and vibrant community and we found Arden!
Jake: Arden is more nature-oriented than where we were before, but we have really loved taking advantage of the amenities and have loved how family-oriented this community is.
Q: Which amenities do you enjoy using the most?
Emily: It's beautiful here and the amenities are wonderful. We love the bi-level pool and the walking trails. Our daughter loves the playgrounds that are around the community. There is a swing set that she loves to play on right by our house and we have been able to meet a lot of our friends there.
Q: What community events do you enjoy going to?
Jake: We love all of the events that Mike, the Lifestyle Director, puts on for the community. We don't go to a lot of the adults-only events, but we love going to the food truck pop-ups, movie nights, or anything else that is family-oriented.
Emily: The neighborhood has been so nice and welcoming. It's been great to go these events and meet parents our age with kids our daughter's age. It's just a nice way to connect with people around the Agrihood.
Q: Tell me about your home?
Emily: We live in a Lennar Easton with the Florida Craftsman elevation. It's a beautifully designed, super functional home. We love the screen-in patio, and our dogs love the backyard. We get a lot of natural light which makes our home feel warmer.
Jake: We like to entertain. We hosted a holiday party last year and had a fire pit outside, and despite it being 33 degrees at one point, it was great. Our home gives us the space to do things like that.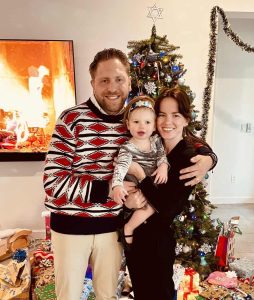 Q: If you had to sum up your experience living in Arden in a sentence or two, what would you say?
Emily: Arden is the place we're supposed to be at this time of our lives. It is a wonderful, supportive community and we are excited to see it grow and become a more diverse place to live.
Jake: We both work remotely or semi-remotely and there are not many places around that are better for families who work like that and have toddlers. We also really love Wellington and West Palm Beach.  It's been really nice getting to know these areas and we like it so much more than Miami.