April 7th, 2022
Arden Events Roundup: March 2022
Arden residents have so much to enjoy throughout the agrihood. From sparkling lakes and wide-open green spaces to luxurious homes and resort-style amenities, residents live in a community connected by beauty. To help our residents foster new connections and friendships, Arden's full-time Lifestyle Director, Mike Herman, plans a variety of community events for every resident at every age year-round.
"It is such an honor to plan all of these different events for Arden residents," says Mike. "When I see hundreds of residents playing or socializing together, it gives me so much joy to see my efforts bring people together."
Here is a roundup of all of the amazing events held in March at Arden:
Sip & Paint with Eco Creations – March 10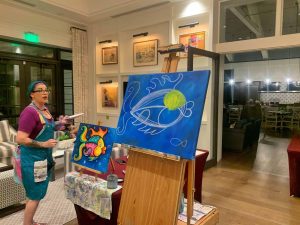 The first event of March was an incredible sip and paint night with Eco Creations! Eco Creations is a local mobile art company with a green footprint. We hosted a certified instructor to guide residents in creating a colorful fish painting. Participants had a great time and even received their own paintbrushes and aprons to take home.
Puppy Pals Trick Show – March 12
We welcomed over 100 residents to the event lawn to watch the Puppy Pals Trick Show. These talented pups have been on America's Got Talent and a variety of other shows over the years, performing across the country. The furry stars of the show delighted residents with humor and amazing performances, jumping through hoops, climbing ladders, and other fun stunts. Residents of all ages had the opportunity to meet and pet the Puppy Pals during a special photo-op session.
Spring Break Fever Series – March 14-16
For families staying in the agrihood during Spring Break, we offered a series of fun activities while the kids were out of school. Monday through Thursday, we hosted a different event to bring residents together. Monday featured "Noodle Hockey", a twist on the classic game of field hockey. On Tuesday, kids and adults alike joined us for "Nerf Wars" on the event lawn. Families joined in on a schoolyard favorite game, dodgeball, on Wednesday. To wrap up the week, we closed out Spring Break Fever with a Rock Paper Scissions Challenge. Four teams battled it out to see who can come out on top. We loved getting to spend time with all of our residents while they enjoyed a staycation at Arden!
Sounds of Spring Music by the Lake – March 19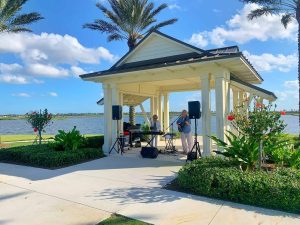 We brought the music to Arden with our Sounds of Spring Music by the Lake event, featuring the TwoCan Blue Band at the Lakeside Pavilion. Residents enjoyed the classic tunes they played while sitting at the pool, under the balcony, or even on the lawn area. More than 300 residents joined us for a beautiful night of live music, food trucks to satisfy Saturday evening cravings and great neighborhood bonding.
Best Year's Social – March 30
 As a diverse community, the Arden agrihood is home to families, working professionals, retirees, empty-nesters, and seniors. At the Best Year's Social, we welcomed everyone to mingle with refreshments and card games, and make connections with other residents in the agrihood!
For more information on upcoming community events, check out the What's Sprouting newsletter in your inbox every Thursday night!