May 13th, 2022
Arden Events Roundup: April 2022
 Here at Arden, residents are immersed in a laid-back lifestyle with beautiful homes, resort-style amenities, and access to fresh farm-grown produce, but they are also members of a close-knit community. To help our residents strengthen their network of neighbors year-round, Arden's full-time Lifestyle Director, Mike Herman, plans a variety of community events for residents of all ages.
"I have loved every minute of our events this month," says Mike. "It has been amazing not only hearing from residents how much fun they are having but seeing it with my own eyes as well. I am looking forward to making more memories with the Arden community in the coming months!"
The Teen Whiffle Ball Home Run Derby – April 2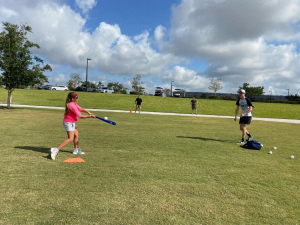 We kicked off our April events with the Teen Wiffle Ball Home Run Derby. We welcomed 20 teens from around the agrihood to compete for the farthest home run. With a crowd of parent spectators, the competition was tight. Congratulations to Daniel Acosta, who claimed the title of HR Champion!
Just Kickin' It Adult Kickball Social – April 10
On April 10th, we invited adults to Arden's Event Lawn for a trip down memory lane with a kickball social. Divided into two teams, 22 residents joined in on a classic schoolyard game of kickball and enjoyed some time in the sun!
Teen Egg Hunt – April 14
We started our Easter celebrations early here at Arden with the Teen Egg Hunt on April 14th. Almost 50 young residents came out to the lake lawn for an egg hunt especially designed for their age group. After the countdown, teens ran down the field to collect eggs, with the hope that they picked up one of the four eggs that would give them a special prize. It was a great event filled with laughs and sweet treats.
 Easter Eggstravaganza – April 16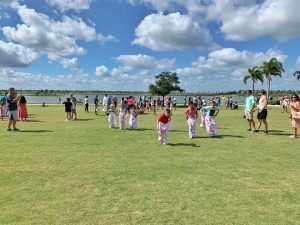 Arden's Easter Eggstravaganza was a community-wide event that welcomed more than 600 residents to celebrate the holiday. Featuring balloon artists, food trucks, and Easter egg hunts, there was something for everyone of any age to enjoy! The Easter Bunny himself joined in on the festivities to meet residents and take photos.
Mark your calendars: The Concert by the Lake and Food Truck Pop-Up events that were canceled due to rain have been rescheduled for June 10.
For more information on upcoming community events, check out the What's Sprouting newsletter in your inbox every Thursday night!